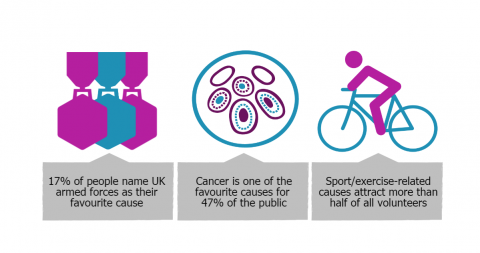 Facts and Figures - Public's Favourite Causes
There are over 160,000 charities in the UK1, benefiting a wide range of causes from hospices to international development. We explore facts and figures to try and determine which of these causes appeal most to the general public, but find that the outcome depends on the criteria used. When asked, the public name clear favourites such as cancer and animals, but when their donating and volunteering preferences are considered the picture is far from clear.
This Facts and Figures article looks at the public's favourite causes from different perspectives, including number of donations, donations by monetary value, volunteering preferences, and other factors. Find out if a person's gender, age or religious preference influence his or her choice, or whether the public's preferences have changed over the last five years.
The key facts are below. Please download the report for more information.
46% of the UK public name Cancer as one of their favourite causes -more than any other cause.
The cause that attracts the largest proportion of individual donations is medical research (33%).
Religious causes (14%) receive the largest share of donations in terms of total monetary value.
Animal charities receive only 7% of individual donations despite being named as a favourite cause by 33% of the UK public.
The cause that attracts the most volunteers is sport/exercise (53% of all volunteers)
17% of people name UK armed forces as a favourite cause, up from 2% in 2010.
For more details, please email our team at CAM@nfpSynergy.net, or call on 020 7426 8888.