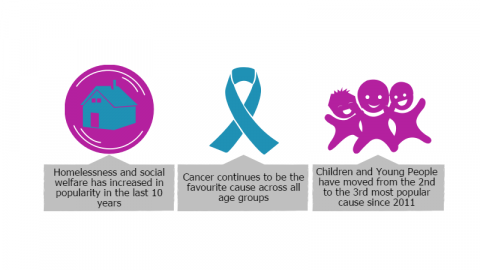 Facts and Figures - Public's Favourite Causes 2016
There are over 160,000 charities in the UK, benefiting a wide range of causes from hospices to international development. We explore facts and figures to try and determine which of these causes appeal most to the general public, but find that the outcome depends on the criteria used. When asked, the public name clear favourites such as cancer and animals, but when their donating and volunteering preferences are considered the picture is far from clear.
This Facts and Figures article looks at the public's favourite causes from different perspectives, including sector popularity based on age group and gender; it also highlights the discrepancy between favourite causes and the amount of donations these causes receive.
The key facts are below. Please download the report for more information.
Cancer continues to be the favourite cause across all age groups.
Older people are more likely to support causes that affect older people, while young people are more likely to support children and young person's charities.
Children and young people are the public's third most popular cause, and have surpassed medical research to attract the largest proportion of individual donations since 2015.
Support for homelessness and social welfare causes has increased significantly over the last 10 years.