Joe Saxton
For the last 10 years and more we have been asking the general public whether they have volunteered in the last 3 months. We do this four times a year. This gives us some really useful long-term data about how many, and who, are volunteering.
Covid has had a major impact on volunteering, and in the last 24 months we have had our lowest percentage saying they volunteered (16%) and our highest (31%). However, it is the demographics of who is saying they are volunteering that has produced the most interesting results. Here are the four key changes that we have seen in our most recent data.

Covid pushed volunteering down and then up

The headline volunteering rate hasn't changed much – it hovers around 20%. It dipped at the height of the first lockdown, and the very latest data suggests it may have bounced back dramatically last September, and fallen again by December as the chart below for overall volunteering by the general public shows:

Volunteering among the over 55s has fallen, and under 45s risen
Behind the headlines there are some dramatic changes in volunteering by age. Volunteering amongst older people (over 55s) has fallen, and under 45s has increased. This is part of a trend that has been going on for a decade, which Covid has really exacerbated. The chart below shows that volunteering rates in the under 45 age group has increased, and the rates amongst over 55s has fallen: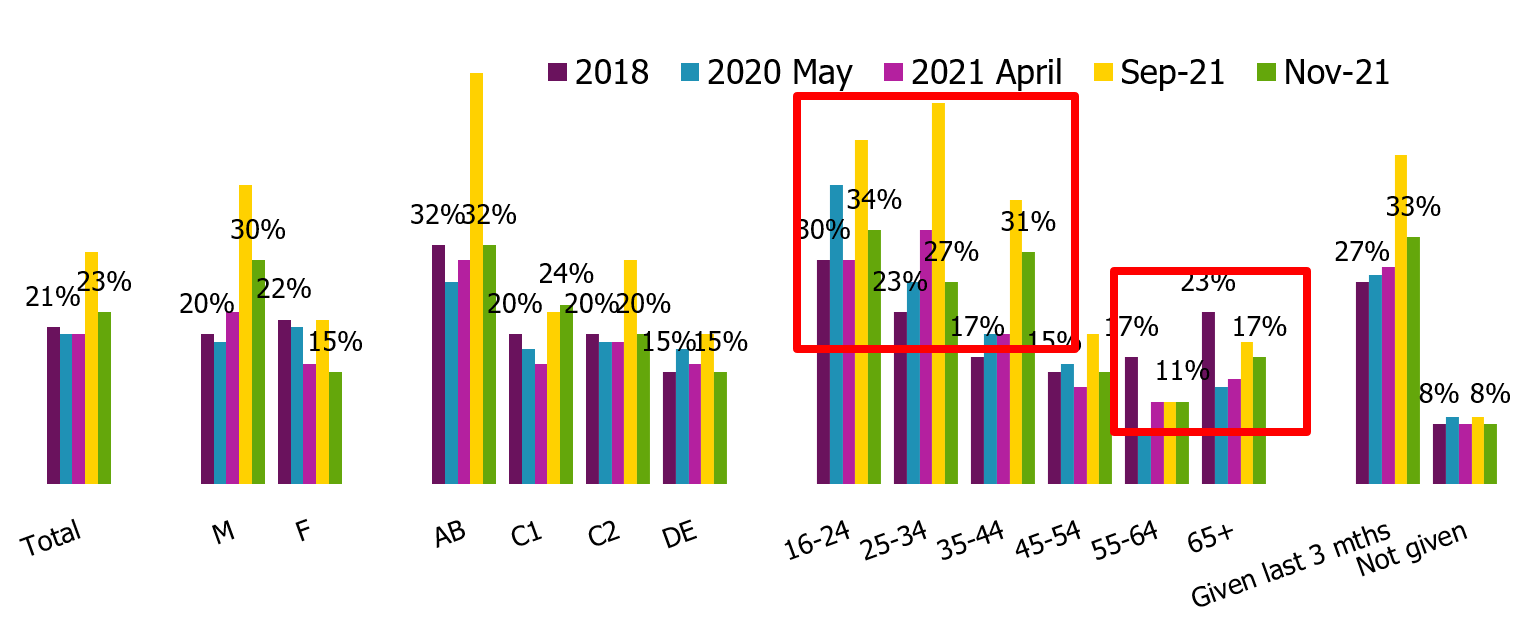 More men than women are now volunteering

Volunteering amongst women has been falling for some time, and in the last 18 months more men are saying they volunteer than women. If this change is permanent, it will indicate a real revolution in who volunteers.

Informal volunteering has increased
While we don't measure informal volunteering (what is most simply called neighbourliness) the DCMS data indicates that in while formal volunteering decreased up to March 2021, informal volunteering increased substantially. Equally interesting is the finding that women increased their level of informal volunteering more than men (all data here).
The pandemic appears to have shaken up who volunteers and how they volunteer. For the most part it seems that Covid has hastened changes that were already underway, rather than reversing them. What the next 12 months looks like, in terms of volunteering is going to be really important for understanding whether these changes are permanent or just temporary. 
If you would like to find out more about our research with the general public, please visit our Charity Awareness Monitor page.
 
Interestingly, the link to the official statistics gov page you linked to at the end shows a very different picture. With volunteering reaching an all time low this year at 17% and lowest amongst 25-34s. I wonder whether this reflects those likely to do the survey at respective organisations? I prefer your picture...! But it's clearly not definitive...
Hi
Very interesting reading. Is there any research or reports on why people volunteer and why the shift in ages? I was also wondering whether the over 55s were anxious about COVID. BW, Ginny
Add new comment