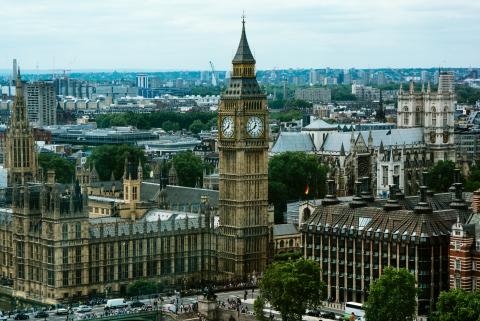 Facts & Figures: Charities and UK Government
Our Facts & Figures reports are free, bite-sized offerings chock full of interesting statistics for the charity sector. In our latest report, we're drilling down in to charities and their relationship with the UK Government. Download the full report below.
10 Interesting facts include:
1.

The last charity Select Committee was in place between 25/05/2016 and 16/01/2018, and was made up entirely of Members of the House of Lords.
2.

The Chair of the Charity Commission for England and Wales is appointed by the Secretary of State for Digital, Culture, Media and Sport for three-year terms.
3.

Charities are supposed to remain politically neutral, especially during general elections. Despite these rules being criticised for lack of clarity, charity leaders have recommended engaging MPs across the political spectrum and ensuring policy documents have a rigorous evidence led approach.
4.

According to nfpSynergy research, MPs' preferred method of lobbying for charities is 'Building a relationship with 10 MPs', followed by 'Building a relationship with Select Committee and/or All-Party Parliamentary Groups'.
5.

The NCVO provides the secretariat for the All-Party Parliamentary Group on Charities and Volunteering.
6.

Many charities have MPs as their ambassadors. For example, Breast Cancer Now and Versus Arthritis have large scale MP ambassador schemes with over 190 MPs acting as Ambassadors for Breast Cancer Now and over 90 MPs being Arthritis Champions.
7.

Charity income from central government overtook funding from local government for the first time in a decade in 2014/15. Following the government spending review in 2012/3 income from central government increased while local government income remained fairly stable.
8.

Grant funding to charities has decreased from £5.2 billion in 2004/5 to £2.9 billion in 2014/5. In this ten-year period contract funding from central government has increased from £6.9 billion to £12.4 billion.
9.

Government departments are responsible for defining the eligible and ineligible expenditure for their grants.
10.

Charities are regulated by the electoral commission as a non-party campaigner if they spend more than £20,000 in England, or £10,000 in Scotland, Wales or Northern Ireland in the 12 months before a general election.
Download the full report below. For any questions about this Facts & Figures, email our Parliamentary research team on cpm@nfpsynergy.net, or leave a comment and we'll get back to you!
Very informative articles
Add new comment