The answer is that as far as the UK public is concerned cycling is our most successful sport.
nfpSynergy polled a representative sample of 1,000 UK adults and asked which from a selection of sports which the UK has had most success in, with the results shown in the table below.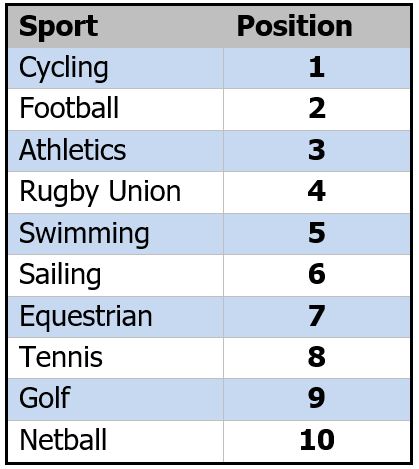 Therappearse to be a very strong argument for putting cycling forward as our national success story. Track cyclists have been hugely successful in recent Olympics; to the point where the two most successful all-time British Olympians are both cyclists from this era Chris Hoy and Jason Kenny. On top of this, British road cyclists have also won the Tour de France five times in recent years with three different winners (Bradley Wiggins, Chris Froome, and Geraint Thomas).
Next is football. The question we asked was 'how successful do you think UK sports men and women are at these sports?' and while the Premier League is the wealthiest football league in the world and its clubs have been extraordinarily successful, they have been spearheaded more often than not by overseas players. The national teams have failed to win anything significant and few if any UK footballers sit in the absolute elite of the sport. This, however, must be balanced against the sheer scale of football - the world's biggest sport. Does this mean England finishing fourth at the World Cup is arguably (given the competition) more of an achievement than any number of gold medals won in minority sports?
The effect of the Olympics, however, is shown as we work our way down the list. Sailing a sport which in this country only gets mainstream coverage during the Games is sixth, just behind swimming which similarly is only a headline sport at that time. That they are ranked above tennis and golf is a little surprising, given both are larger coverage sports, boasting recent significant success. Golf and tennis are also both Olympic sports and each has the current Olympic men's champion. Perhaps as the Games is not the pinnacle of success in either tennis or golf then gold medals are less relevant to the public's perceptions than gold medals won by, for example, Ben Ainslee in a sport where the Olympics is the biggest event?
Finally, we looked for differences between groups. We found men are more likely to say the UK has been successful at cycling and women more likely to pick athletics. Could this be because more of the UK cycling recent superstars have been men, while athletics has had Jessica Ennis-Hill and now Dina Asher-Smith as major stars? Also older people are more likely to think of athletics as something the UK is good at, perhaps remembering Seb Coe, Daley Thomson, and Steve Cram et al. from more than thirty years ago, while younger people are more likely to pick tennis, having not lived through the many barren years pre Andy Murray.
This blog is part of a series by the new division of nfpSynergy, Sports Insights and Strategy. Follow us on @sportis_me for our monthly blog or contact us to find out how we can help your sports or recreation organisation to understand more about its members, players, or stakeholders
Not one mention of motorsport. Was that option even offered?
Multiple F1 driver world champions. The majority of F1 teams based in the UK. Multiple F1 team world champions. And that's just F1. I haven't even mentioned MotoGP, WSBK, Speedway, Rallying etc.. If we were as successful over such a long period in any other sport it wouldn't get missed out. Sigh.
Add new comment