2020 has been a year that has simultaneously under- and overwhelmed us all. As we would expect in the face of an emergency, countless urgent issues have been propelled to the top of the public and political agenda. Despite being consumed by the shorter-term social and economic consequences of a major public health crisis, awareness of, and concern about many environmental issues has been at an all-time high. This has no doubt been heightened by our imposed national lockdown that has led many of us to develop a deeper appreciation of nature and our local surroundings.
In the face of impending economic ruin there's now much talk of how we rebuild, with repeated mention of a so-called green recovery from the government. However, this has so far lacked substance, trailed far behind commitments made by France and Germany, and led many campaigners to argue that what has been promised does not go far enough to meet our pre-pandemic challenges, let alone the ones we are facing now. Indeed, they may even be unlawful in light of the UK's obligations under the 2015 Paris Climate Agreement and the net zero emissions target enshrined in law by Theresa May's government in 2019.
Figure 1: COVID-19 looks to be impacting prioritisation of the environment over the economy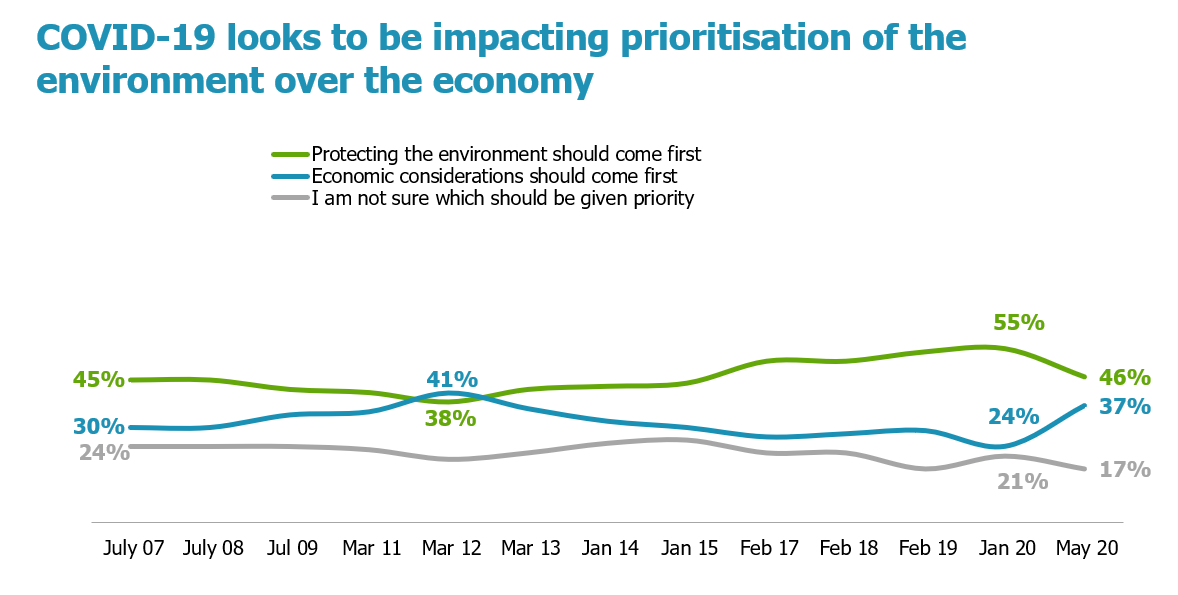 "In cases where there is a trade-off between protecting the environment and economic considerations, which do you think should be given the highest priority?" Base: 1,000 adults 16+, Britain | Source: Charity Awareness Monitor, May 20, nfpSynergy

At nfpSynergy, one way we have been tracking the importance of the protection of the environment in the minds of the public is by asking a representative sample at regular intervals since 2007 to tell us: "in cases where there is a trade-off between protecting the environment and economic considerations, which do you think should be given the highest priority?" (Figure 1). We have seen considerable fluctuation in the response to this question since the beginning of 2020, with our most recent data from May this year showing that the public see economic considerations as the most important they have been since 2012 (when the UK was in the midst of a double dip recession and the Eurozone crisis was playing out). Contrast this with what we saw in January this year, when the percentage of the public saying the environment should come first was at a record high. As the prospect of an unprecedented financial downturn looms, we see significant convergence of the importance of both economic and environmental considerations.
So, what role can charities play in ensuring the environment remains at the top of the agenda in the challenging economic times that are almost certain to lie ahead? Here's what insights from our research with the general public and politicians reveals:
Currently there are high levels of concern about climate change amongst the public. We regularly ask the public to tell us what issues they are most concerned about from a list of prominent issues. In May 2020 we found levels of concern about 'climate change' to be on a par with 'personal financial security' and 'physical health'. There were only two issues that came above these, 'the coronavirus pandemic' and 'quality of NHS services'. This shows that the environment is still salient despite all that is happening and that it remains an optimal time for charities to mobilise public support.

There has never been a better time or a greater need for charities to shape MPs' agendas when it comes to environment policy. When we surveyed MPs in February/March this year, 28% said the environment was one of the issues at the top of their agenda, up from 8% who said this in April/May 2018. In addition, 71% of MPs thought it acceptable for a charity to challenge government policy, up from 63% in 2014. Levels of compliance with the emergency measures put in place to halt the spread of COVID-19 demonstrate that the public are willing to amend their behaviours and lifestyle choices in order to avert catastrophe, but government intervention is needed to achieve this. Charities have the expertise and clout to guide politicians on how to tackle the climate emergency and must take the opportunity to do so whilst the time is ripe.

The public see campaigning as a key attribute of their ideal nature and wildlife charity. nfpSynergy's Charity Brand Evaluator delves deeper into public perceptions of charity brands and provides a benchmark of the ideal charity working in different sectors. Data from our Autumn 2019 research shows that the public's preferred attributes for a charity working in the nature and wildlife sector are trustworthy, practical, campaigning, informative and caring. These differ from the ideal charity attributes that come top for other sectors, with the presence of campaigning particularly unique. Charities operating in this sector should take advantage of this opportunity to differentiate and focus on embodying these characteristics for optimum public support.

The popularity of environment and conservation charities has been steadily rising since 2015. When we look at our trend data on the public's favourite charity causes, we see that the popularity of environment and conservation charities has been on the rise since 2015 (18% of the public now say their favourite charities work in environment and conservation, up from 12% five years ago). Over this period we have seen the environment movement go mainstream thanks to prominent activism, increased media coverage and international political attention. It is promising to see that this is having a positive impact on perceptions of charities working in the sector too.

Charities are not seen as the most important actors when it comes to tackling climate change, but still remain crucial for providing public information. At the beginning of the year we asked the public how important of a role particular actors have to play in tackling climate change. We found that charities do not feature high up on the list, coming behind national governments, intergovernmental organisations, companies and individuals. However, this does not mean that charities are altogether unimportant. Charities still have an important role to play in the raising of public awareness and sharing of information. In 2015 we asked the public where they would be most likely to go for reliable information on conservation and environmental issues and the most popular response (31%) was a charity website.
Environmental issues have high saliency among both the public and politicians even in the face of all that is on the agenda at the moment. Environment and conservation charities are also the most popular we have seen them among the general public. To keep the cause at the top of the agenda charities should continue providing much-needed facts and information, and keep campaigning and lobbying for change.
To find out more about our research with the general public or with politicians please download one of the briefing packs below.