Campaigning in the UK Parliament has been very difficult for charities lately. The main parties are fighting amongst themselves, Theresa May's minority Government constantly faces a fight to quash rebellions, and Brexit has swallowed up and paralysed the legislative agenda.
Amidst all this chaos, however, many charities have been able to work very productively with the UK's other political institutions – The Scottish Parliament, the Welsh Assembly, and the Northern Ireland assembly. And this work has even influenced policy at the UK-wide level. For example, British Heart Foundation played a key role in the introduction of opt-out organ donation in Wales, which eventually led to the extension of the same policy to other parts of the UK.
Brexit has certainly affected the devolved institutions too, and Stormont is hardly a model of functional government – so why should charities still decide to invest more in their devolved parliamentary work?
Politicians in devolved institutions are much more excited to work with charities than politicians at Westminster
Firstly, politicians in the devolved institutions are more enthusiastic about working with charities than their counterparts at Westminster. In 2017, 71% of MSPs, 78% of MLAs and 66% of AMs said they were excited to work with charities in their Parliament or assembly, compared to only 53% of MPs (in 2016).
With this level of enthusiasm, charities working in the devolved institutions have a great starting point for building strong and productive relationships with these important legislators.
Clearer schedules mean that it's easier to find a time to meet
In Westminster, demands on MPs' time are intense, meaning that it's hard to get an appointment for a meaningful face-to-face meeting. Politicians in Scotland, Wales and Northern Ireland are tight on time too, but arguably not yet to the same extent, which opens the door for more engagement.
It also helps that these politicians are happier to meet at their parliament or assembly. MPs show a clear indication that they like to be contacted at the constituency level with over half of MPs (57%) saying that they prefer this way[1]. There is not as much demand for this from politicians in other institutions, with only 38% of MSPs and 36% of AMs preferring this[2]. This is lowest among MLAs with only 17% saying they prefer to be contacted at the constituency level[3].
We may see this trend change over time as the devolved institutions become busier (we are already seeing this happen in Scotland), but for now their members are still considerably more accessible than MPs.
Charity campaigning is considered more acceptable in the devolved institutions
One of the major obstacles faced by charities lobbying the UK Parliament is that many MPs are skeptical about the concept of charity campaigning altogether. 14% of MPs think that charities shouldn't campaign in Parliament, rising to 24% among Conservative MPs[4]. However, the figures for AMs and MSPs are much lower – only 3% of AMs and 6% of MSPs think that charities should not campaign in their parliament/assembly[5].
Further research we conducted in 2014 shows that politicians across all three devolved institutions are more accepting of most forms of charity campaigning, and are more comfortable with the overall concept.
Acceptability of campaigning methods across political institutions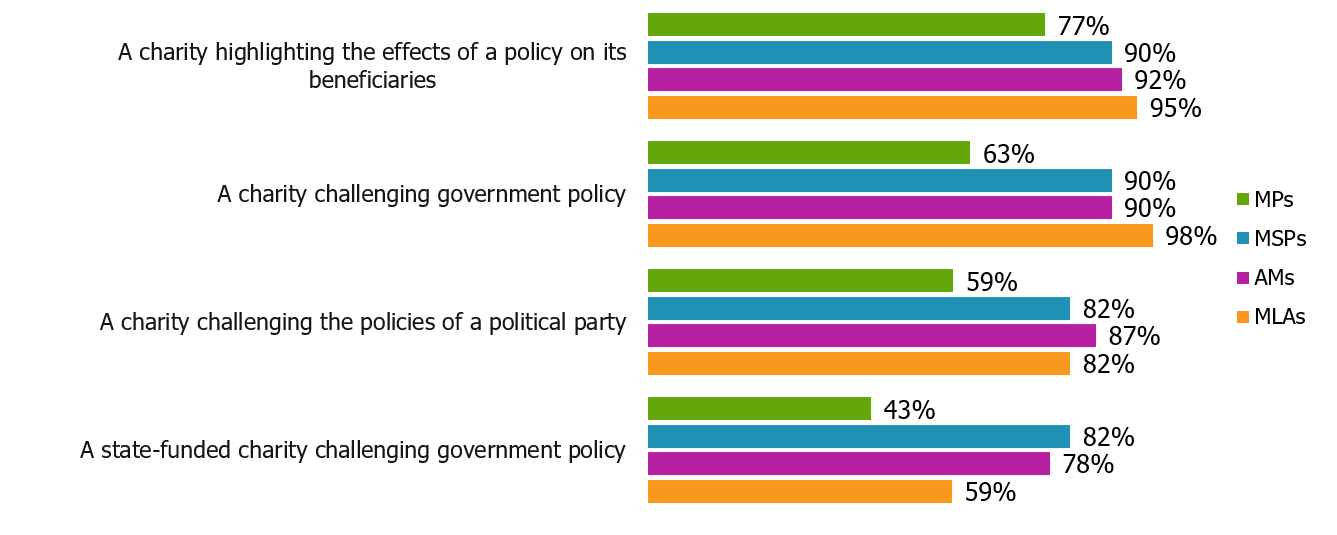 "Please rate how acceptable or unacceptable you find each of the below actions." Definitely + somewhat acceptable combined
Base: 150 MPs, 50 MSPs, 40 MLAs, 30 AMs
Source: Surveys of the Scottish Parliament, National Assembly for Wales and Northern Ireland Assembly Oct-Dec 14/Charity Parliamentary Monitor, Jul 14, nfpSynergy
As shown in the chart above, a far larger proportion MSPs, AMs and MLAs than MPs consider each of the prompted actions to be acceptable. For example, only 63% of MPs thought it was acceptable for a charity to challenge government policy, compared to over 90% of MSPs, AMs and MLAs.
All of this means that charities looking to increase their work in the devolved institutions can do so in the knowledge that their audiences are already at ease with them playing an active role in the political sphere.
We can help you to measure your progress
In light of the difficulties of working in Westminster, it's no great surprise that more charities have chosen to work in Holyrood, the Senedd and Stormont.
As with any campaigning and public affairs work, it's important to set and track meaningful goals for your parliamentary work with MSPs, AMs and MLAs. Defining what you are setting out to accomplish and setting achievable goals helps to determine what's working and what isn't, and help you to build an even more successful strategy for your next campaign.
That's where nfpSynergy's Celtic Charity Parliamentary Monitor (CCPM) comes in. CCPM is set of annual surveys of the devolved institutions of Scotland, Wales and Northern Ireland. With our parliamentary research, you will be able to:
Track your reputation with politicians, with up to 15 years of trend data
Evaluate your campaigns and initiatives
Develop evidence-based strategies
Benchmark your performance against the other charities taking part
If you would like to find out more about our parliamentary research in Scotland, Northern Ireland or Wales, please download the briefing pack attached. You can also contact the research team at CCPM@nfpsynergy.net, or call us on 020 7426 8888.
---