Today, maintaining and building the pull of charity supporters means competition. With nearly 200,000 charities established in the UK, plenty of businesses running their own social investment campaigns, and completely new ways for individuals to support good causes, building your brand awareness remains just as important as delivering your services.
As part of our Charity Awareness Monitor we ask the public whether they have heard of Charity X. We call it 'Prompted Awareness'. It helps charities to navigate their brand recognition and compare themselves to other similar organisations.
Zooming into the data
Large charities tend to perform very well on this measure, reaching a wide proportion of the public. Whether awareness is increasing through heightened media attention, well-targeted advertising or ongoing services and impact, it is a helpful way of understanding how visibility impacts a brand.
Reaching a high majority of the public is achievable, for example 94% of the public were aware of the top charity we tested. However, this is not as easily done for others. Often less mainstream charities, whether focussing on rare health conditions or just generally working within a smaller income, find it harder to raise widespread awareness and disseminate their messages to the general public, compared to more specific audiences.
Yet whether you are known by the majority of the UK population or just by a distinct proportion, the awareness figure by itself is not enough to understand how well you are doing. As your campaign and messaging may be tailored to different groups, it is typical that charities awareness differs across genders, age groups and social grades. Understanding how awareness is broken down through different demographics will help you to understand who you are reaching and whether you are reaching your target audience. Who is actually aware of your brand name? Are they your old loyal advocates who don't expect you to change? Or are they the new generation of supporters that you need to nurture and grow with?
Understanding those you are reaching (and those you are not) in detail can create a more multi-faceted approach to your messaging strategy.
Not all age groups are aware of big brand charities
The general public's high awareness of big charity brands is promising, yet disparities occur when we pull out different age and gender groups.
What we found in this data set was that young people, in general, are less aware of charities. Even charities with established and historical reputations have relationally lower awareness amongst young people, who have had less time to get to know charities and have grown up with a far more crowded sector. The below table shows this unevenness.

Young men are hardest to reach
Another interesting finding from our analysis was that young men aged 16-24 and 25-34 have the lowest awareness of most charities. This is unsurprising for those who are aware that women are more likely to be supporters of charities; nonetheless, the difference is stark. The charity that received the second highest awareness amongst the general population reached 92% awareness. Awareness even reached 99% amongst the female 65+ group. However, only 84% of male 16-24 year olds were aware of it, compared to 92% of females of the same age.
We did find that not all charities had lower awareness amongst young men compared to other demographic groups. The armed forces sector performs very well on prompted awareness amongst male 16-24-year olds.
Unlike most other sectors, men are more likely to be warmer to armed forces charities than women. The higher awareness of armed forces charities amongst young men demonstrates the extent to which target audiences can vary across different sectors. The table below demonstrates that when the awareness of different sectors is averaged, awareness is higher amongst female 16- 24 year olds than male 16-24 year olds for all sectors apart from the armed forces sector. The knowledge that this sector has a unique high awareness amongst this demographic group can help facilitate future campaigns and inform and develop target audiences.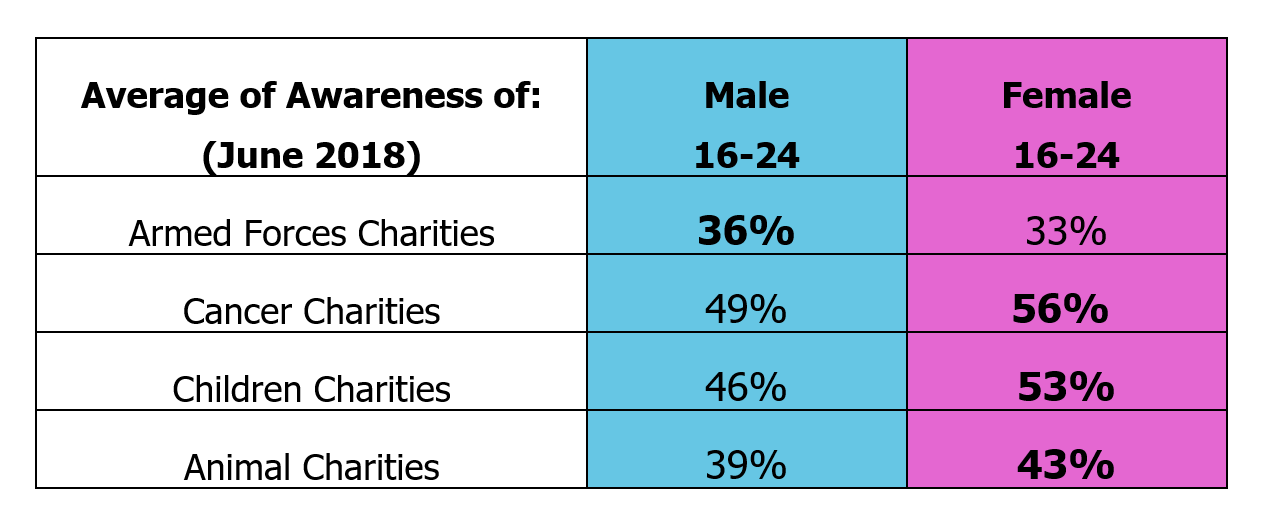 Keep up with the future
Yes, charities rely more on the older generation. The trust is earned, the services are familiar, the money is there. Having older people as the main proportion of supporters might feel comfortable and secure. Yet, recognising that, we need to acknowledge that the younger generation will be the driving force for the charity sector in the future.
We believe it is inevitable that charities will need to keep developing more innovative paths to convert the public into the supporters of good causes, either through new ways of fundraising, memorable campaigns, or partnerships. And we already see how charities adapt to this changing environment.
The #nomakeupselfie was started not by Cancer Research UK, but by young people (after all, selfies and social media are their two great friends!). By reacting quickly and keeping the momentum alive, the charity managed to receive around £8m of donations in one week.
Pursuing a more modern and community-led approach, RNIB's See the person and not the sight loss campaign uses a light-hearted tone to share the message that sight loss does not define who a person is. Posters that include captions such as 'I don't get out much. Don't blame my sight. Blame Love Island' does not only dispel myths about sight loss but encourages younger audiences to engage and learn about the work that RNIB do.

Young people cherish memorable experiences, appreciate personalisation, and demand accountability. They might be pickier and less aware of particular charity brands now, but they surely make charities think thoroughly about building their brand awareness for the future. Make sure you start nurturing the next generation of your supporters now. After all, everyone counts.
Exploring different demographics' awareness of each brand, campaign or logo within our data helps understand whether the pursuit of certain audiences through different strategies are performing well. The insight of 'Prompted Awareness' highlights whether awareness is being raised amongst those targeted groups, those harder to reach audiences or young people that could become your supporters.
If you are interested in tracking your brand awareness in great detail, download the Charity Awareness Monitor briefing pack below or contact Jo Fischl via insight@nfpsynergy.net or call 020 7426 8888.