Following on from our first wave in late March and our second wave in early April, we have completed fieldwork on our third survey of the general public's attitudes towards charities and the coronavirus pandemic. The results are again available for you to explore in an online dashboard. Some of the key points to emerge from this wave (which ran from the 24th – 28th April) are:
Anxiety levels about the pandemic have declined slightly, and fewer of the public wish to see stricter legal measures introduced (albeit still a majority)

Charities remain in fifth place as a trusted source of information about the outbreak – behind NHS officials, government statements, TV news and family & friends

Messaging around vulnerable groups may be getting lost – concern about the impact of the pandemic on older people, people with underlying health conditions and people with diabetes has declined

The NHS may be taking up some of the public fundraising space at the moment

Despite this, growing numbers have donated to charities responding to the pandemic, and there is large majority favouring continued fundraising from charities

An increasing proportion of the public believe charities are doing a good job at responding to the pandemic

The public are increasingly happy that the government is doing enough to support charities
Attitudes towards the outbreak
This wave of research has again seen interesting shifts in public opinion reflecting the fast-moving nature of this crisis and how we have yet to find an equilibrium or "new normal" as a society. While the overwhelming majority of our sample (78%) again identified the coronavirus outbreak as one of the issues they were most concerned about, the proportions saying that they personally felt very anxious about it declined a little – from 65% in early April to 59% in the most recent wave. This slight decline in anxiety is perhaps reflected in the declining number saying the government should introduce stricter legal measures in response to the pandemic – from 70% in our first wave to 60% in our second and 55% in the most recent wave. Nevertheless, there is a clear majority in favour of even stricter regulations, suggesting little appetite for leaving lockdown at the moment among the public.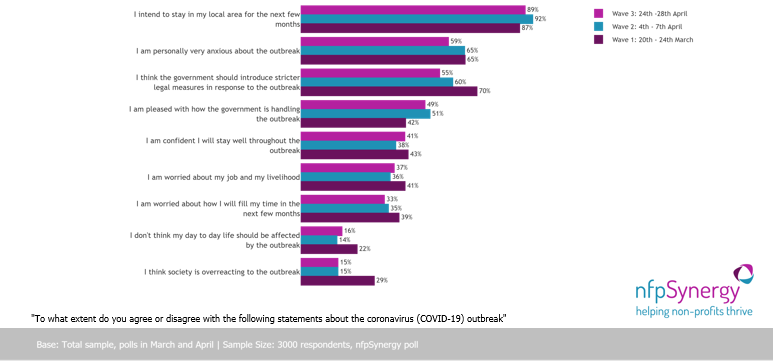 Trusted sources of information
When it comes to trusted sources of information, charities are still unfortunately lagging a little behind. 55% of the public in our most recent wave said that they would trust information from charities about the coronavirus outbreak – this puts the sector in fifth place, behind NHS officials, government statements, TV news and around the same level as family and friends. This is concerning for charities hoping to speak with authority to the public on issues affecting their beneficiaries.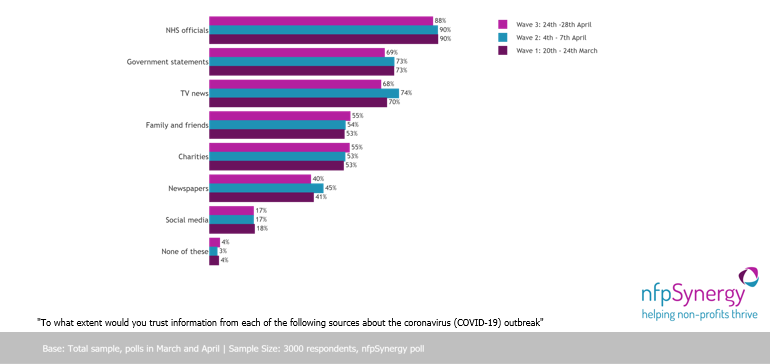 Groups at risk
It is particularly concerning as it seems that some of the initial success in informing the public of risk factors and groups particularly at risk during the pandemic appears to be slipping. While 82% were concerned about the impact of the outbreak on older people in late March, this declined to 75% in our most recent wave. Even more dramatically, concern about people with diabetes has declined from 61% to 50%. It may be that following a month of messaging from the government that the coronavirus can affect anyone, the idea of certain groups having an elevated risk profile is slipping a little in the public mind.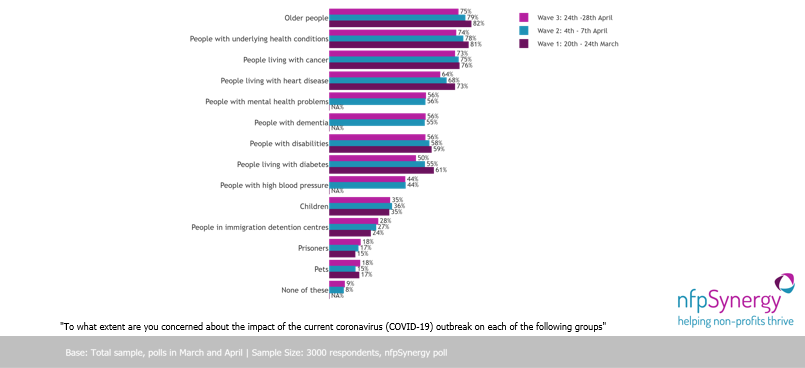 Brands associated with responding to the outbreak
Another potential concern for charities is that some of the public energy that would normally be devoted to charities in terms of fundraising may now be directed to the NHS and NHS charities. When we asked people to name a charity that is responding to the coronavirus outbreak, 7% mentioned the NHS, despite it of course not being a charity. This was up from just 2% in our first wave of research showing the degree to which fundraising for and on behalf of the NHS has grown in the public mind since then.
Charitable giving and the government's response
That said, there are still encouraging signs for charities. After a slow start, the majority of the public now agree that charities are responding well to the pandemic. In late March just 36% agreed with this statement, but in our latest wave this has risen to 54%. Perhaps most encouragingly, the overwhelming majority (68%) believe that charities should keep fundraising. Donors are happy to continue hearing from charities and few think it would be inappropriate for them to continue asking for money at this stage.
21% of the public are now reporting having given to a charity responding to the outbreak – up from 10% in our last wave. This suggests that fundraising efforts have started to pay off, and may even be driving some of the belief that charities are responding well to the pandemic. Interestingly, fewer people are now reporting to be looking for opportunities to help out in their local communities (30%, down from 39% in late March) – suggesting perhaps that people are more satisfied now that charities or government can provide the necessary services.
The package of measures brought in by Chancellor Rishi Sunak on the 8th of April to support the charity sector was just after our last wave of research. It appears to have satisfied many members of the public, with the proportion of respondents agreeing that the government was doing enough to support charities rising from 28% to 41% from late March to late April. That said, support for charities is still seen to lag behind business – 56% believe the government is doing enough to support businesses.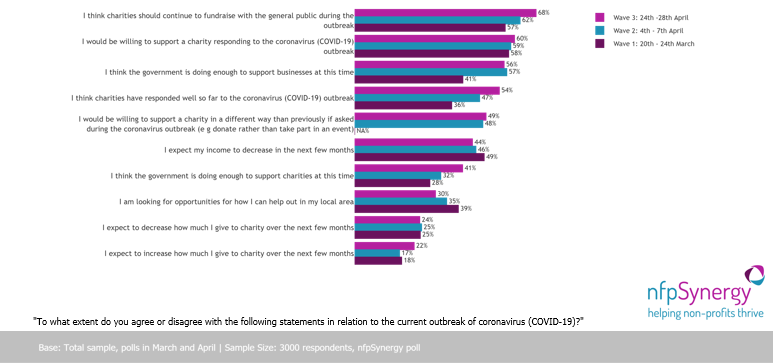 If you are interested in this research, please do get in touch to let us know. At this point we are still trying to gauge whether there is an appetite for any future wave, and in particular a way for making funding the research sustainable for future waves as we are keen that it continue to be a public good for the sector. If you have any thoughts, please do get in touch – cian.murphy@nfpsynergy.net
Are you asking any questions about the public's attitudes to volunteering? I can't see any mention of volunteering in this post, just fundraising.
Add new comment