Health is an issue that is very close to people's hearts, whether that be concerns around access and treatment, supporting loved ones, an interest in medical research and/or improvements in wellbeing. As can be seen from our research below, these concerns about individual physical health are a greater worry for people than their financial security.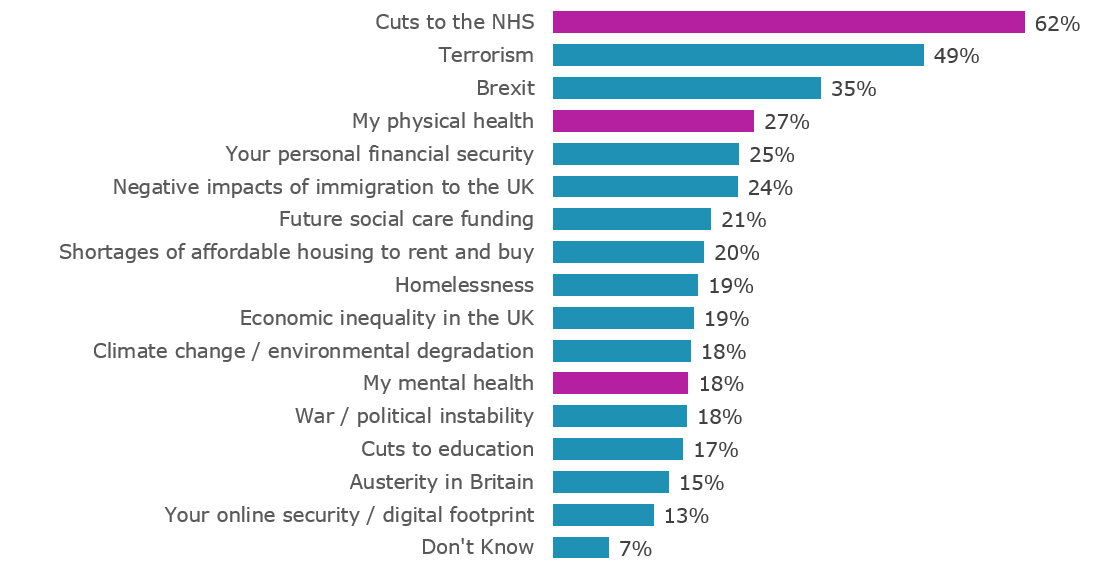 "Thinking about the following issues, please select up to five that you are most concerned about."
Source: Charity Awareness Monitor, August 17, nfpSynergy | Base: 1,000 adults 16+, Britain
What role do charities play in these realities and concerns and how can further support be generated? Health is a popular cause, with cancer remaining the UK public's top charity cause for over 10 years. With many of the UK's leading charities in the health sector, and with local hospitals and community initiatives looking to the general public for funding and support this is becoming an increasingly competitive and often politicized market space. In nfpSynergy's bespoke projects team, some of the questions we continuously get asked by our clients are how can we attract more supporters, and how can we motivate people to engage with our work?
In our experience of working across the charity sector we find that personal connections are a significant motivator, and none more so than for health charities. People who live with a terminal, life threatening or chronic condition often become a key audience for charities linked to that cause. This makes sense - if you are accessing information, services, a helpline, or support and seeing first-hand what the charity is doing, then your awareness of and affinity to a charity is often high. However, not only the individual with the condition is engaged with the charity; family and friends can develop affinity with that charity during this often difficult time.
Family and friends are sometimes forgotten yet they themselves are experiencing their own trauma of watching a loved one struggle to come to terms with a health condition. This is a group that are going home and searching desperately for information, answers and comprehension. They can also be service users themselves and see first-hand what you are doing on the ground. One thing that we have learnt from working with many charities that provide services within hospitals is that there can be a misattribution of which charity was involved, or whether the NHS is providing the services. Making sure that your branding is present in these spaces is key so that all individuals involved are aware of which charities are present and can form an affinity with you and your brand.
Yet they are also often in a position of feeling helpless against the condition their loved one is experiencing. Supporting a health charity can be an outlet for this feeling of powerlessness and a way of expressing support. Our research with the general public shows that 47% of the public would choose cancer charities as one of their favourite causes, which rises to 61% if an immediate family member has experienced Cancer[1]. Similarly, 13% of the general public would choose dementia as a favourite cause, and this moves to 34% if an immediate family member has experienced dementia or Alzheimer's. This may seem obvious, but it is quite easy to forget at times. In my own experience of being diagnosed with Type 1 diabetes, I realise how it affected my family and friends and how they struggled to find a purpose. Even now, several years later friends phone up to say "I want to raise money for type 1 diabetes as I can see how it has impacted on you".
If you are a health charity, don't forget family and friends. Don't forget they want information, they need support and they are seeing how a condition impacts people they love. They want to help and are often in more of a position to help as they are actively searching for ways to raise awareness and offer support. Activities such as fundraising for your cause can empower them in times of feeling hopeless, so make sure you are ready to engage with them.
For further exploration of the role of audiences for health charities take a look at our free Healthy Audience report.
---
[1] Charity Awareness Monitor, August 2017, nfpSynergy. Base 1,000 adults 16+, Britain