In response to the pandemic, we have run a series of polls to understand its implications for the public's support of charities. Fieldwork for our first three research took place in late March, early April and late April. We have just finished the fourth wave, with fieldwork running from the 19th to the 22nd of June and as usual, the results are available for you to explore in an online dashboard.
This time around some of our key findings include:
Concern and anxiety around the pandemic have decreased from a peak in April
Faith in the government response has declined sharply
Trust in official sources such as government, NHS and print and TV media have all gone down, while trust in family/friends and social media have gone up, suggesting a crisis in trust
Concern for the impact of the virus on a host of at-risk groups have gone down
Willingness to support a number of charity sector has risen, including children, cancer and disability
While fewer people are concerned about losing their jobs, there are also fewer people willing to support a charity responding to the pandemic – perhaps as the public see less for charities to do than they did in April
The public are less pleased with the government's support for both charities and business compared to late April
With a larger gap in fieldwork dates compared to previous waves, there has been more time for public attitudes to settle in relation to the pandemic and charities. Nevertheless, there have been a series of striking changes in the public mindset over the past month. The first is that the coronavirus pandemic, while still at the top of the public's list of concerns, is no longer as overwhelming. 67% identified it as one of their top concerns, down from 81% in early April and 78% in late April. By contrast, concern for other, more "everyday" issues such as economic inequality, immigration and schools have all increased since our first wave of research in March.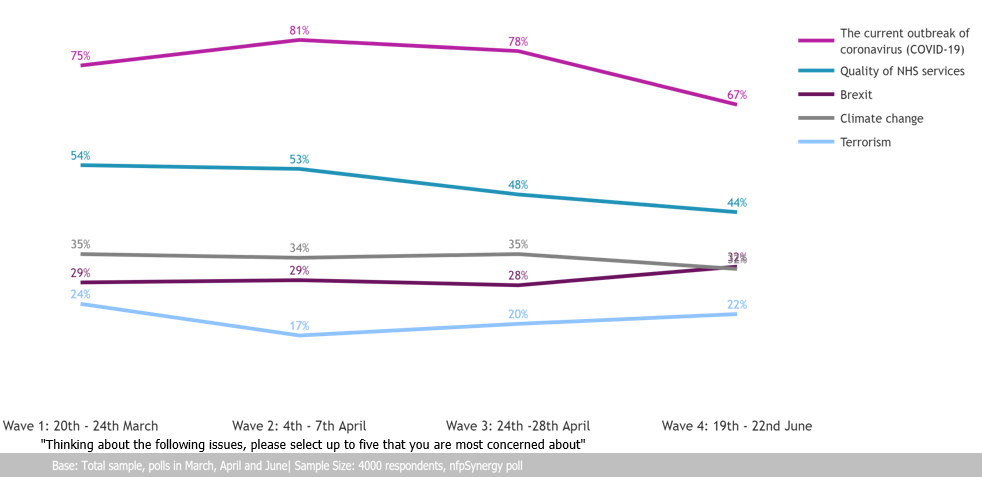 This decline in concern is reflected in the public's response to statements about the pandemic itself. While in our last wave 89% agreed that they intended to stay in their local area of the next few months, this declined to 74% in June. The number agreeing that they were "personally very anxious" about the outbreak was at 56%, the lowest level since we began tracking. Similarly, 48% felt they were confident they would stay well throughout the pandemic, the highest level in any of our waves of research. However, perhaps following the controversy in May around government advisor Dominic Cummings' breach of lockdown, the proportion of the public pleased with how the government is handling the outbreak is at its lowest level yet – just 36%.
In line with this decline in concern about the virus, there has been a decline in how concerned people are about its impact on a number of at-risk groups. While in March 82% of respondents were concerned about its effect on older people, this was just 71% in June. Similarly, concern for people with heart disease declined from 73% to 62% and people with underlying health conditions from 81% to 69%. This may be a concern for health charities attempting to get the message out to the public about the risk to the people they represent.
Just as concerning has been the sharp drop in trust in official and media institutions on the subject of coronavirus. Trust in government statements dropped from 73% in March and April to just 55% in June, again perhaps as a result of the controversy around Dominic Cummings. Even trust in NHS officials has declined, from 90% to 84%, while TV news (70% to 63%) and newspapers (41% to 37%) have also seen declines in trust. Worryingly for those attempting to convey official positions on the pandemic, the sources that have seen increasing trust are family and friends (rose from 53% to 61% - now more trusted than the government) and social media (18% to 21%).
Fortunately, charities, while still being less trusted than many other sources of information, have not seen any significant decline since we began tracking (53% to 52%), suggesting they may have an important role to play in sharing medical and public health messaging with their audiences.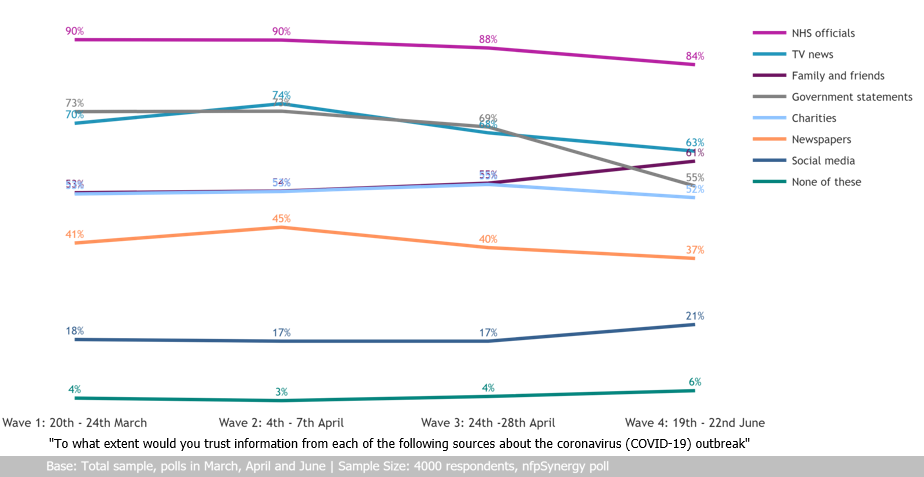 Perhaps as a result of concerns other than coronavirus returning to the fore, the public have become more willing to support a range of different causes this wave. The proportion of people who would consider supporting a cancer charity has risen from 30% to 38% while there have been similar rises for children and young people (20% to 26%), dementia (14% to 20%) and disability (14% to 19%).
In terms of brands that the public can think of that are responding to the pandemic, there remains a high level of uncertainty, with 54% unable to think of any. The most-mentioned brands are Mind (6%), British Red Cross (6%), Shelter (5%) and Cancer Research UK (5%). Encouragingly however, the proportion of the public saying they had donated to a charity responding to the outbreak reached its highest level yet (23%).
The public have retained their high level of respect for charities' response to the crisis, with 53% agreeing that charities have responded well so far to the pandemic. Fewer people now expect their income to decrease (37%, down from 49% in March), although this has not necessarily translated into increased enthusiasm for giving. Just 52% say they would be willing to support a charity responding to the pandemic, down from 60% in April, while there has been no significant change in the number expecting to decrease their giving over the next few months.
Nevertheless, it is still encouraging to see that the public continue to approve of charity fundraising, with 67% saying that charities should continue to fundraise. They are also keen to see more help for charities from government, with just 34% saying the government is doing enough to support charities (down from 41% in April) compared to 53% agreeing the same for business.
If you are interested in this research, please do get in touch to let us know. At this point we are still trying to gauge whether there is an appetite for any future wave, and in particular a way for making funding the research sustainable for future waves as we are keen that it continues to be a public good for the sector. If you have any thoughts, please do get in touch – cian.murphy@nfpsynergy.net